Shop Traders' Faire! – Day 1
Friday, April 26th
10:00am to 5:00pm

View this event on Facebook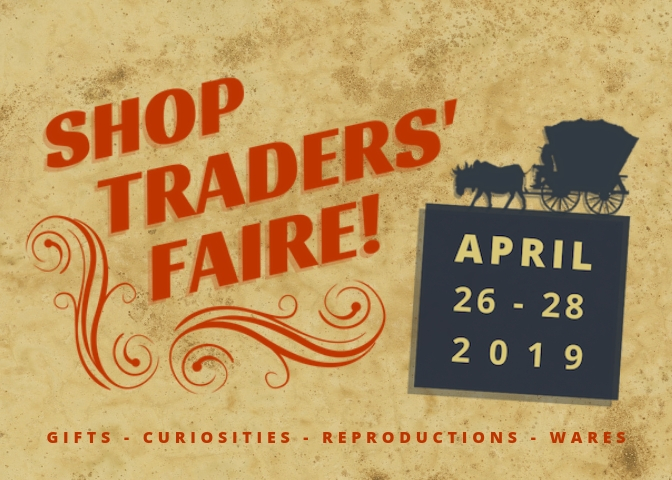 Offered only once a year, this makers mart gives you the unique opportunity to shop within the walls of Sacramento's oldest structure. Learn about the past as you purchase one-of-a-kind gifts, curiosities, reproductions, and wares, many of which are sold from vendors dressed in historic attire!
Find one-of-a-kind treasures and shop for unique handcrafted gifts.
Explore early California History and the importance of trade.
Bring the entire family!
Come rain or shine!
Vendors include:
Crooked Creek Trader – leather bags, wooden canteen, knives, and more
Beaded Hats by Leanne Snow Bear – traditional Native American beadwork
Native Three Feathers – handmade dolls, necklaces, and earrings
The Basket Tree – jewelry using traditional materials from the Pit River Tribe and more
E & D Beads – trade beads, old tools, pottery, and beadwork
Biscuits the Blacksmith – hand forged metal goods
Bullhorn Hat Company – palm leaf hats shaped onsite
Phoenix Obsidian Designs– flint knapped items, stone tools, furs, leather, and more
And many more!
Admission cost is $7.00 adults, $5.00 for youth, and children (5 & under) are free. Purchase your ticket at the gate!

Friends of Sutter's Fort members receive discounted admission and a gift certificate to the Sutter's Fort Gift and Trade Store. Not a member? Become one today!
For more information, please call Sutter's Fort State Historic Park at 916 445-4422 or visit www.suttersfort.org.
Are you or someone you know an artisan or purveyor of fine things? If so, we'd love to have you join us as a vendor at this event! Submit your vendor application today!