Author Talk: The Troubled Life of Peter Burnett by Gregory Nokes
Thursday, September 27th
7:00 PM
Free for Members, Advanced Registration Required

View this event on Facebook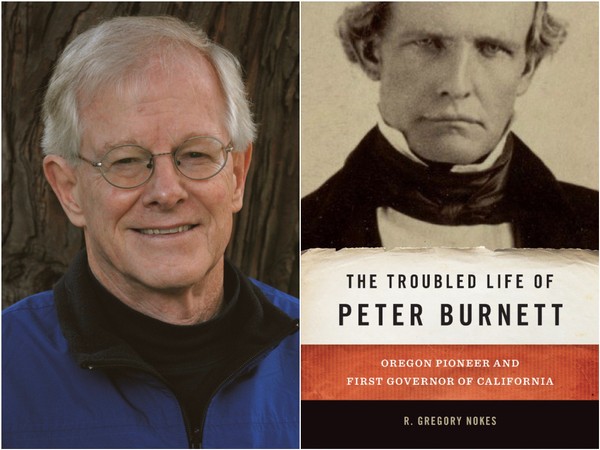 Join Friends of Sutter's Fort a talk by special guest author, Gregory Nokes taking place in the Distillery at Sutter's Fort State Historic Park. During the talk, Nokes will discuss his newest book, The Troubled Life of Peter Burnett.
Nokes says, " Peter Burnett had the most impressive resume of any early leader in the American West: a defense attorney for Mormon leader Joseph Smith in Missouri; the first captain of the 1843 wagon train from Missouri to Oregon; Oregon's first supreme judge; a member of Oregon's first elected legislature; blazed the first wagon road from Oregon to California in 1848, and played a lead role in developing the city of Sacramento. In 1849, he was overwhelmingly elected the first governor of California, and later served on the California Supreme Court. Yet he's been virtually forgotten in both states. His downfall was his racism, underscored by his advocacy of exclusion laws against blacks with the goal of establishing the West as an all-white enclave. He seemed to have no other agenda, even as California's governor. Those who once supported him were embarrassed by him and quickly turned away. He resigned after less than two years."
The Troubled Life of Peter Burnett explains this complicated man who was handed extraordinary authority in both Oregon and California, yet proved unable to exercise it.
Space for this speaking event is limited and registration is required. Friends of Sutter's Fort members receive free entry, but must reserve spot in advance. Non-members and guests can purchase tickets in advance. Reserve your space today!
About Gregory Nokes
R. Gregory Nokes has traveled the world as a reporter and editor. He is author of three non-fiction Western histories. His latest book is The Troubled Life of Peter Burnett: Oregon Pioneer and First Governor of California, published this year by Oregon State University Press. His earlier books are Massacred for Gold: The Chinese in Hells Canyon in 2009, and Breaking Chains: Slavery on Trial in the Oregon Territory in 2013, both also published by OSU Press.  A native of Oregon, Nokes did his undergraduate work at Willamette University. He attended Harvard University as a Nieman Fellow in 1971-72. Nokes and his wife, Candise, live in West Linn, Oregon.
Recent Media for Troubled Life of Peter Burnett
California's first elected governor sought a white-enclave. His racism was his undoing
First Wednesday—The Troubled Life of Peter Burnett
For more information about this event, contact Linsey Fredenburg Humes at 916-323-7626