It is with great sadness that we dedicate this page to the passing of two very important partners and supporters of Friends of Sutter's Fort.
Their friendship and talents will be missed by all of us at Friends of Sutter's Fort and California State Parks. We are very fortunate to have been included in their lives and thank them for their many years of service to others.
Carolyn Elder: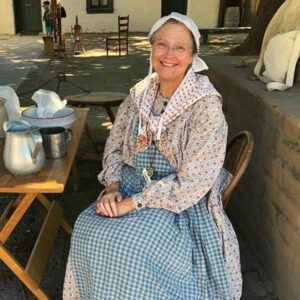 Carolyn Elder was a valued member of Friends of Sutter's Fort, a dedicated Sutter's Fort docent volunteer, and a well-respected educator.
Known for her costume designs and amazing sewing skills, thousands of parents, students, and volunteers regularly turned to Ms. Elder to look their best for their school programs at Sutter's Fort and other historic sites.
Many students who have participated in the immersive educational programs at Sutter's Fort State Historic Park (SHP) went to Ms. Elder for their individual costume fittings. Ms. Elder always took great care in making sure that each student was comfortable and happy in their chosen attire. She also taught students the purpose of different materials and explained why certain garments would have been worn in the 1800s.
Carolyn will forever be missed by her Sutter's Fort family and by all of the schools she has impacted over the years. She always had such a huge smile on her face and loved to talk 1800s attire. Those lucky enough to have known Carolyn knew what a fighter she was and an inspiration she will continue to be.

Jared Jones, ELP/ESP Coordinator at Sutter's Fort SHP
Ms. Elder was just as generous in sharing her time and talents with Friends of Sutter's Fort, helping with events such as Tour by Chocolate and Haunted Fort, even in the midst of her illness. Fellow Sutter's Fort docent Judy Prey shared that, "I enjoyed her friendliness and upbeat personality. She was always so generous with her time and desire to make people feel welcome to her home and to Sutter's Fort. Even as she became ill and the disease progressed, she kept that 'I can conquer' attitude."
We are so very thankful to have known and worked with Ms. Elder over these past several years. Her passing is a great blow to all of us at Sutter's Fort SHP, but her example of kindness, generosity, and strength will ensure that her work here will never be forgotten.
Ron Leineke: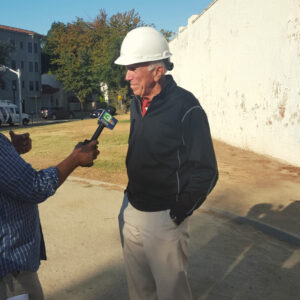 Not only a member of the Friends of Sutter's Fort, Ron Leineke also played an instrumental role in our major exterior wall restoration project that was completed in 2016. Seeing that the walls were in a state of disrepair, Mr. Leineke fully funded this critical project and became actively involved in the preservation and restoration efforts. This was the largest restoration project at Sutter's Fort SHP since it became part of the California State Park System in 1946.
The importance of the exterior wall restoration project cannot be understated. This project cost over $600,000 to complete and took nearly a year to finish. The painstaking process included repointing mortar, repairing cracks, and applying fresh "breathable" paint to better protect the surface from the elements. You can read more about this important project here. 
The entire Midtown community is saddened to learn of the passing of Mr. Leineke. He made amazing contributions to Midtown and specifically had a love for the historic significance of Sutter's fort — and for preserving its iconic walls — once considering it arguably the most important landmark in Northern California. We pass along our condolences to his friends and family.

Emily Baime Michaels, Executive Director of the Midtown Association
Former Friends of Sutter's Fort Executive Director Lisa Mealoy stated, "Ron Leineke was a great Friend of the Fort in all senses of the term. He cared deeply about Sacramento and saw the Fort as a critical landmark that was distressingly deteriorating. Following the restoration of the gates and walls, he quietly would come to visit, walking his dog in the grounds and enjoying the work that was done. A consummate gentleman, he was a funny, kind, generous man who will be very much missed."
In addition, Mr. Leineke also commissioned a beautiful painting of Sutter's Fort by renowned Sacramento artist Gregory Kondos. This painting is currently housed at the Sutter Club where Mr. Leineke was a long-standing member.
Mr. Leineke's generosity and his commitment to making Sacramento a better place extended far beyond the walls of Sutter's Fort SHP. He was an inspiration to all of us at Friends of Sutter's Fort and we look forward to building upon his legacy of philanthropic giving for many years to come. 
Learn more about Ron Leineke here.