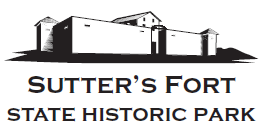 Visiting Sutter's Fort State Historic Park
Location
Sutter's Fort State Historic Park is located at:
2701 L Street
Sacramento, CA 95816
Visitors should enter the park through the large gates facing 28th Street.
Hours
Open daily from 10 a.m. to 5 p.m.
Tickets sold until 4:30 p.m.
Closed Thanksgiving, Christmas and New Year's Day.
Admission
Adults $5 (18 years and older)
Youth $3 (ages 6 to 17)
Children Free (5 and under)
Admission fees are per person, and visitors may navigate Sutter's Fort at their own pace.
Please Note: On special interpretive program days fees are $7 for adults and $5 for youth.
COVID-19 Precautions 
Everyone has the responsibility to slow down the spread of COVID-19. Please note the following health and safety measures in place at Sutter's Fort SHP:
There is a 25% capacity limit.
All admissions will be staggered 10 minutes apart.
Small groups only. No more than three households in a group is permitted.
Mixing between group gatherings, large gatherings or parties is not allowed.
Per State and County health orders, all guests over the age of 2 must wear a face covering at all times while in the museum.
Please contact California State Parks staff at Sutter's Fort for more information (916) 445-4422
Parking
Sutter's Fort State Historic Park does not have its own parking lot. Metered city parking is available, and there are several public parking lots in the vicinity.
Bus Parking: Free bus parking is available on "L" Street in front of Sutter's Fort.
Public Transportation is also an option, please check with Sacramento Regional Transit.
Our friends at the Midtown Association are a great resource for more information about parking, public transportation and biking options in Midtown, Sacramento. Please visit their Getting Around web page for detailed information including maps.
Plan Your Visit
Visitors to Sutter's Fort State Historic Park are welcome to explore the historic structures and living history museum at their own pace. A map and brochure is available at the kiosk. A written tour is also available on request. Please note that California State Parks is no longer offering the audio tour. 
Many visitors enjoy participating in our Sutter's Fort scavenger hunt, which provides an opportunity to search for artifacts and historical information to answer a page of questions. The scavenger hunt is available at the kiosk, and is appropriate for all ages.
Personal photography is welcome throughout Sutter's Fort State Historic Park. Commercial photography must be approved in advance by California State Parks.
We also encourage visitors to explore the exterior grounds of Sutter's Fort, and to visit our neighbors at the State Indian Museum. Sutter's Fort is located in the heart of Midtown Sacramento's Sutter District, which is home to dozens of outstanding restaurants and shops-  many within walking distance. For more information, please visit the Midtown Association's website.

The Friends of Sutter's Fort is proud to be the nonprofit 501c3 cooperating association for Sutter's Fort State Historic Park. We support the staff, programs and historic preservation efforts at Sutter's Fort and operate the Trade Store, but we do not operate the park or programs, nor do we set the fees or park policies.