Volunteer
Friends of Sutter's Fort, in partnership with Sutter Health, is proud to sponsor the Volunteer Program at Sutter's Fort State Historic Park.
Each year we provide critical funding needed to run the volunteer program and support the activities of more than 100 active volunteers who collectively provide over 30,000 hours of service to the park annually.
There are many fun and meaningful ways to volunteer your time with Sutter's Fort State Historic Park!
Become a Docent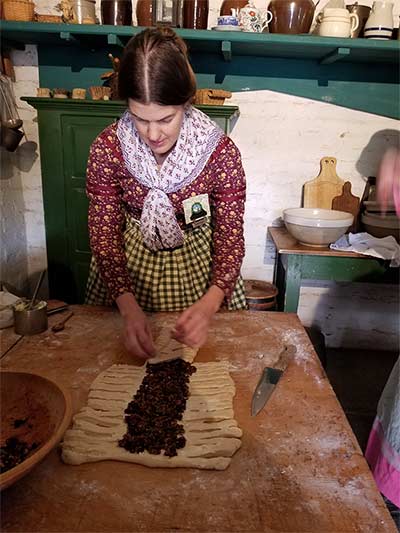 The majority of volunteers at Sutter's Fort State Historic Park are docents, who have gone through an intensive (and fun!) State Park training program to provide important support for educational programming at the park. These docents dress in historic 1800s costume to welcome visitors, give demonstrations and provide educational information about the historic site. Docents are absolutely critical to the success of our programs!
Becoming a docent is a great way to give back to the community and impact the lives of thousands of individuals each year. It's also a fun way to learn new skills and develop new talents. Many of our docents are teachers, history enthusiasts and/or craftspeople who enjoy talking with visitors and helping people of all ages learn about the history of California. Docents of all ages can focus on specific interest areas, like carpentry, cooperage, cooking, baking, ropes making, crafting and giving talks.
Additional Opportunities for Volunteers
Non-Docent Opportunities
For those who are not interested in becoming a docent at this time, there are many other opportunities to help with everyday activities at Sutter's Fort State Historic Park. Volunteers can help both in serving our visitors, and behind the scenes helping staff.
Friends of Sutter's Fort also seeks volunteers to help with sewing and other craft projects, graphic design and photography.
Service Projects
We welcome groups to contact us for opportunities to help with small service projects. We may have projects that can help obtain Eagle Scout or similar goal.
Internships
Sutter's Fort State Historic Park is recruiting interns to help with the 2018-19 Environmental Living and Environmental Science Programs.