The roof replacement project is in full swing. Shingles will begin to be installed on the western side of the Fort, including the Carpenter Shop, Museum Store, and Grist Mill. This crucial project, which began in June, not only involves roof replacement but also seismic work to protect this historic landmark.
Admission fees are currently waived while most of the rooms are temporarily closed. Our Museum Store is closed, but you can shop online or visit our Pop Up Shop in Old Sacramento on weekends.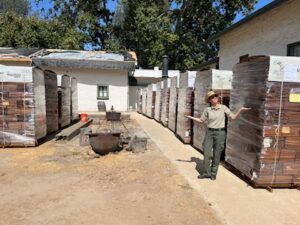 Stay tuned for more updates on the roof project.