Candlelight Tours at Sutter's Fort
Saturday, November 16th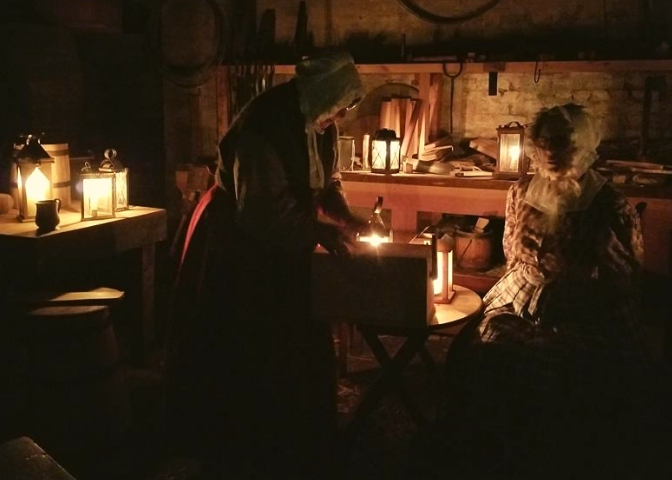 Once a year, the popular Sutter's Fort Candlelight Tours offer a unique experience for visitors to "eavesdrop" on inhabitants of Fort rooms as they gossip about their neighbors and comment on the current events of 1846. A behind the scenes look at the faces of those who saw opportunity or possible devastation in their new homes, husbands debating with wives, outdoorsmen speculating about changing times, tradesmen negotiating business, all surrounded by the night which allows us to truly travel back in time.
Due to the popularity of the Candlelight Tours, advance reservations are recommended.
For more information about this special evening event or Sutter's Fort SHP in general, please call the Sutter's Fort SHP kiosk directly at 916-445-8115.
More about the tour:
Ticket sales begin online mid-October, first-come, first-serve only.
Friends of Sutter's Fort members receive complimentary tickets AND/OR pre-sale access to discounted tickets. Not a member? Join Friends of Sutter's Fort today!
The program consists of a series of scenarios set in various rooms around Sutter's Fort. You will be present as a ghost from the future. The program's participants cannot see or hear you. Essentially, you will be eavesdropping on an evening's conversations and activities from November 1846. The program's language is rated PG-13 and may be a bit spicy for young ears.
The event will take place regardless of weather. Please come prepared if there is rain. Also, there is no heating in the historic rooms.
Each tour lasts approximately 1 1/2 hours and includes a significant amount of walking and standing. The Fort grounds are very dark and for safety it is important that groups stay together. Fort footing is uneven in places. Your guide will be carrying a lantern and will point out known hazards. Restrooms are available before or after your tour as there are no stops during the program.
Tickets are non-refundable or transferable.
This program benefits Friends of Sutter's Fort, a 501(c)(3), which supports the historic programming, restoration, and preservation at Sutter's Fort State Historic Park.