The Central Building at Sutter's Fort has a new staircase. The Central Building is the only original existing structure at the fort, and the stairs have been replaced multiple times. California State Park's researchers discovered that some of the wooden supports, while original, were suffering from rot.
The new stairs are made of reclaimed white oak salvaged from Midwestern barns. Restoration specialists custom-made copper beam covers to preserve the wood. The team used traditional building methods restore the stairs alongside modern advances like concrete post bases and contemporary screws. These modern materials are hidden from visitors to maintain the historic feel of the fort. The new stair design is also stand-alone, so it doesn't attach to the historic Central Building.
Friends of Sutter's Fort would like to acknowledge our partners at California State Parks for the care and expertise put into this project.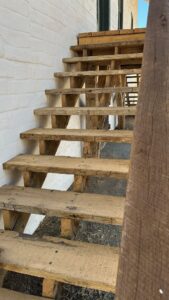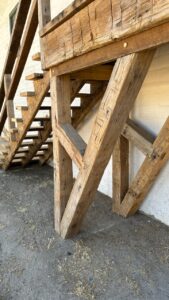 To see how the stairs looked prior to the project, please read this article from January, 2023.